PACIFIC PARROTLETS
Out on a Limb Exotics Specializing in healthy, Hand-Fed Pacific Parrotlet babies
AVAILABLE BABIES FROM SEPTEMBER 2014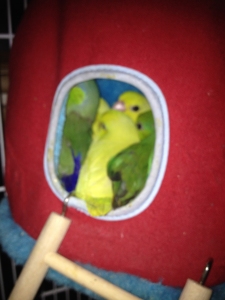 ONE OF OUR BLUE MUTATION PARROTLET MALES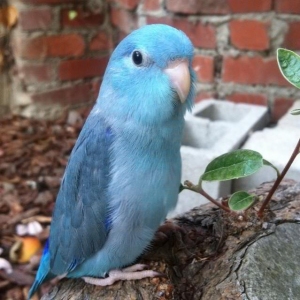 The Celestial Pacific Parrotlet – FORPUS coelestis,  one of the smallest Parrots in the world.
PACIFIC PARROTLET (Forpus coelestis), also known as the Celestial Parrotlet, is a species of small parrots in the Psittacidae family, native to Ecuador and Peru. Its natural habitats are subtropical or tropical dry forests, subtropical or tropical moist lowland forests, subtropical or tropical dry shrubland, and heavily degraded former forest.
Parrotlets are the second smallest group of all parrots. Pacific Parrotlets are between 4½ to 5½ inches long. There are seven species of Parrotlets in the genus Forpus. This species is not very common in pet stores in the USA and is valued by breeders. Only three of these species are kept as pets. Of these, the Pacific Parrotlet is the most common. Some of the color mutations in aviculture include blue, American yellow, American White, European yellow and white, fallow, dark factor green and lutino.