About the Pacific Parrotlets (Forpus coelestis)
The Pacific Parrotlet is fondly named "pocket parrots" because they are the 2nd smallest parrots in the world and have playful personalities making them very popular and great pets. They have the personality of a "large bird in a small bird's body," Some of the males talk in a very low adorable voice. They are very smart and easily trained. They range from 4½ to 5½ inches long.
Pacific Parrotlets are parrots in the Psittacidae family, native to Ecuador and Peru. Its natural habitats are subtropical or tropical dry forests, subtropical or tropical moist lowland forests, subtropical or tropical dry shrubland, and heavily degraded former forest. There are only three out of the seven species that are kept as pets in the USA. Of these, the Pacific Parrotlet is the most common. Some of the color mutations in aviculture include blue, American yellow, American White, Pied, Fallow, Dark factor green Turquoise, and White.
Breeding Pairs for sale!
These two breeding pairs produces large clutches of beautiful  baby parrotlets.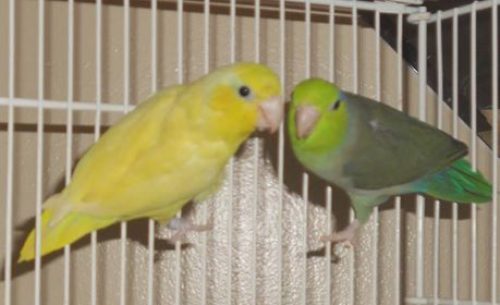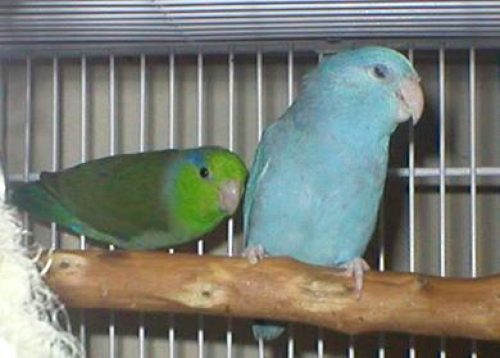 Handfed Parrotlets for Sale
CARING FOR A PACIFIC PARROTLET.
Parrotlets are an adorable breed of parrot that come in a variety of colors. They can be affectionate birds and make great pets. To care for a parrotlet, you'll need to prepare a space they'll love, preferably the most used room in the house, with adequate cage space for them to play with plenty of toys, give them a well balanced diet of Small Parrot Seeds, fresh water, nuts, fruits, grains, veggies and some pellets, be aware of any potential health concerns, and, for added fun, train them.
The Hagen Vision 2 is great cage for a Parrotlet.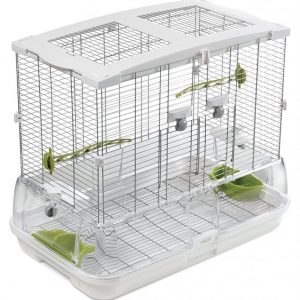 Creating a Parrotlet-Friendly Living Space.
Tent Perch

Parrotlets like to snuggle. This will provide warmth as well as security.

The Bungie

The Bungie will be a great form of exercise and play for your bird.

Chewing Toys

Great for playtime and beak trimming.

Chewing Toys

Great for playtime and beak trimming.

Coco Log

Pass the time away and keep beaks trim too.

Colorful Wood climbing Toy
Playtime
Keeping them busy
Parrotlets are often labeled
"Pocket Parrots" because of their small size but don't let that fool you. They possess a big bird mentality and an abundance of energy. That is why it is important to provide them with lots of toys to forage and keep them busy so they do not get bored. Just make sure the toys are suited for small birds. Below are some of their favorites.
Feeding your Parrotlet 
Parrotlets need a well balanced diet of Small Bird Seed, and fruits and Veggies and a small amount of pellets.
Some parrotlet-friendly fruits and vegetables are corn, Strawberry, blueberry, bananas, oranges, carrots, pears, apples, peas, celery, pomegranates, green beans and kiwi.. Legumes, rice, beans. 
The main food for Parrotlets is a good quality Seed mix which should always be available to them 24  hours a day because they are very active birds and burn the food off quickly. I like Volkman (below) Parrotlet Mix and if that's not available, Lovebird & Conure will do.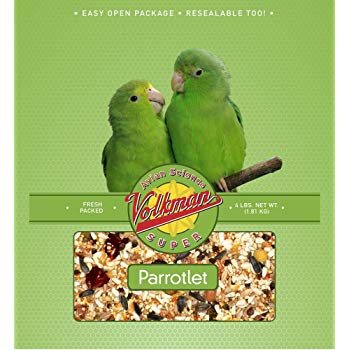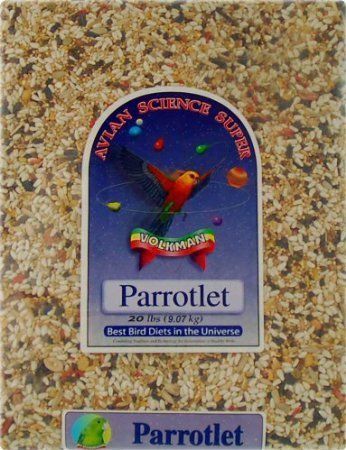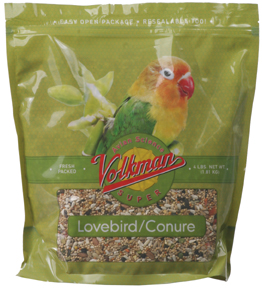 Top 10 Poisonous Foods for Parrots
1. Alcohol
While not technically a food, alcohol is a poisonous food for parrots. Beer, wine and other alcoholic beverages depress a parrots organ systems, just like it does ours.  However,m alcohol can be fatal to birds. Make sure that your bird stays safe by not allowing him to drink alcohol.  Even a little sip to quiet him down!  Some birds enjoy a walking onto the table and taking a nip, but alcohol and bird health don't mix!
2. Apple Seeds
Many fruit seeds contain trace amounts of Cyanide. Not just apples, but peaches, cherries, apricots and pears have toxic seeds. While the fruit pulp is safe for your bird, the seeds need to be avoided.  On top of poisonous seeds,fruit peel may have been sprayed with pesticides. Thoroughly wash and core all fruit that you share with your bird to avoid exposure to toxins.
3. Avocado
Although there is some debate regarding how toxic avocados are for parrots, it is generally advised to abide by a "better safe than sorry" attitude toward them.  Don't allow your parrot to consume guacamole or other avocado products.  Avocado skin and pits are suspected of causing cardiac distress and eventual heart failure in pet bird and parrots.
4. Caffeine
Caffeine is known to be toxic to parrots so don't allow your parrot to consume any caffeinated beverages including soda, coffee, and tea. We had a Caique named Rascal for a number of years who would sneak swigs of coffee between scrambled eggs. It made him act like a maniac.  We simply had to make sure he was caged as we drank our morning coffee.  Caffeine causes cardiac malfunction in birds, and is associated with increased heartbeat, arrhythmia, hyperactivity, and cardiac arrest. What affects us with a boost in energy is potentially deadly to our pet parrots.
(continued)
While chocolate is a favorite treat for humans, it is a poisonous food for parrots and many other animals.  The first symptom of chocolate poisoning is diarrhea and vomiting. Additionally, your birds central nervous system is affected.  You'll see deadly seizures, too.  Keep all chocolate out of reach of your bird.
5. Dried Beans
While cooked beans are a healthy supplement to your daily bird food, raw, dry bean mixes are poisonous foods for parrots. Uncooked beans contain a poison called hemaglutin which is very toxic to birds. To avoid poisoning, make sure to thoroughly cook any beans that you feed your bird.
Mushrooms are a type of fungus that not only may result in digestive upset for our pet birds and may even induce liver failure.
8. Onions
Very small amounts of onion in flavorings may be safe but too much onion will cause severe digestive problems including vomiting and diarrhea and they are considered a poisonous food for parrots.  A bird that is fed too much onion for long periods of time will even develop a serious blood condition called hemolytic anemia. Finally, breathing problems develop and the bird ultimately dies.
9. Salt
While all living beings need moderate amounts of sodium to stay healthy, too much salt leads to many healthy problems such as excessive thirst, dehydration, kidney dysfunction, and even death. Many salty foods also contain a lot of fat.  Our pet birds want to share our chips and crackers, but these food items are just not healthy for our pet birds.
10. Vegetable Leaves & Many Plants
The stems, leaves and vines of common garden plants such as tomatoes, potatoes and some other vegetables are poisonous to birds. Make sure that you only feed your parrot the actual fruit or vegetable part of garden plants and never the stems, leaves or vines.