TOXIC & NON-TOXIC PLANTS, TREES, SUBSTANCES
PLEASE NOTE: If your bird is in distress, do NOT take time to search this list. Call your vet or the ASPCA Poison Control Hotline for Pets: (888) 4ANI-HELP or (888) 426-4435 – open 24/7 immediately (A $65 consultation fee may be applied to your credit card). If you do not find what you are looking for on this list, please make inquiry to Cornell University or do a search on the web for a particular plant.
DISCLAIMER: Anecdotal advice throughout this website is intended for your information and education. It is not intended to replace your veterinarian's advice and expertise. Out on a limb Exotics will not be liable for any damages resulting from our own advice or that of any third party who has contributed to this website.
**WARNING: Pressure treated lumber contains arsenic! "One ounce of treated wood dust per 10 pounds of body weight ingested may cause acute arsenic intoxication."
**WARNING: Teflon or Non-Stick items like cookware (pots & Pans) as well as heaters, ovens etc that are coated are poisonous to birds.
The following materials are not safe if toxic chemicals or insectides have been sprayed on them. Before installing them in any cage, scrub all branches with a non-toxic disinfectant such as vinegar, then rinse and dry well.
SAFE BRANCHES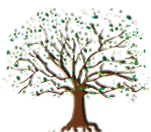 ASPEN
ASH
BALSAM
    (DOUGLAS, SUBALPINE, WHITE FIR)
BEECH
BIRCH
CITRUS (ANY)
DOGWOOD
DRAGONWOOD
ELM
EUCALYPTUS
GUAVA
LILAC
MADRONA
MAGNOLIA
MANZANITA
MAPLE (except for RED MAPLE)
NUT (EXCEPT
CHESTNUT & OAK)
PAPAYA
PINE
POPLAR
PRUNE
RIBBONWOOD
SASSAFRAS
SPRUCE
    (BLACK, NORWAY, RED, WHITE)
SYCAMORE
THURLOW
VINE MAPLE
WILLOWS:
   (GOAT, PUSSY &
   WEEPING)
SAFE FOLIAGE
ACACIA
AFRICAN VIOLET
ALOE
AMERICAN BITTERSWEET
ARECA PALM
AUSTRALIAN LAUREL
AUTUMN OLIVE
BABY'S TEARS
BAMBOO
BARBERRY
BAYBERRY
BEGONIA
BIRD'S NEST FERN
BLADDERNUT
BLUEBERRY
BOSTON FERN
BOTTLE BRUSH FERN
BOUGAINVILLEA
CANARY ISLAND PALM
CHICKWEED
CHRISTMAS CACTUS
CISSUS (KANGAROO
   VINE)
COFFEE TREE
COLEUS
COMFREY
CORALBERRY
CORN PLANT
COTONEASTER FIRETHORN
CRABAPPLE
CREEPING FIG
DANDELION
DANISH IVY
DOGWOOD
DONKEY TAIL
DRACAENA VARIETIES
DRAGON TREE
ELDERBERRY:
    (COMMON, EUROPEAN, RED)
EUROPEAN FAN PALM
FERNS: (BIRD'S NEST,
    BOSTON, MAIDENHAIR, MING, MOTHER)
FIGS: (CREEPING,
   RUBBER,
   FIDDLE LEAF, LAUREL
   LEAF)
FLAME NETTLE
GARDENIA
GRAPE IVY
HAWAIIAN SCHEFFLER
HEN AND CHICKENS
HUCKLEBERRY
IMPATIENS
INDIAN LAUREL
JADE PLANT
KANGAROO VINE
LACE FERN
LADY PALM
MAGNOLIA
MARIGOLDS
MONKEY PLANT
MOTHER-IN-LAW
NASTURTIUM
NATAL PLUM
NORFOLK ISLAND PINE
ORCHIDS
PALMS: (ARECA, DATE,
   FAN, LADY, PARADISE, PARLOUR,
   HOWEIA, KENTIA,
   PHOWNIX)
PEPPEROMIA
PETUNIA
PITTOSPORUM
PRAYER PLANT
PURPLE PASSION
PYRACANTHA
RASPBERRY
ROSE
RUBBER PLANT
SENSITIVE PLANT
SNAKE PLANT
SPIDER PLANT
SWEDISH IVY
THISTLE
UMBRELLA TREE
VELVET NETTLE
VIBURNUM
WANDERING JEW
WAX PLANT
WHITE CLOVER
YUCCA
ZEBRA PLANT
ZINNIA
TOXIC PLANTS (Unsafe)  

ARUM LILY
AMARYLLIS
APRICOT TREE
ARALIA
ARROWHEAD VINE
AUTUMN CROCUS
AUSTRALIAN
    FLAMETREE
AUSTRALIAN
    UMBRELLA TREE
AVOCADO
AZALEA
BANEBERRY
BEANS: (CASTOR,
   HORSE, FAVA,
   BROAD, GLORY,
   SCARLET RUNNER,
   MESCAL, NAVY,
   PREGATORY
BIRD OF PARADISE
BISHOP'S WEED
BLACK LAUREL
BLACK LOCUST
BLEEDING HEART OR
  DUTCHMAN'S
  BREECHES
BLOODROOT
BLUEBONNET
BLUEGREEN ALGAE
BOXWOOD
BRACKEN FERN
BUCKTHORN
BULB FLOWERS:
   (AMARYLLIS,
   DAFFODIL,
   NARCISSUS,
   HYACINTH &
   IRIS)
BURDOCK
BUTTERCUP
CACAO
CALLA LILY
CAMEL BUSH
CASTOR BEAN
CALADIUM
CANA LILY
CARDINAL FLOWER
CHALICE (TRUMPET
  VINE)
CHERRY TREE
CHINA BERRY TREE
CHRISTMAS CANDLE
CHRISTMAS CHERRY
CLEMATIS (VIRGINIA
  BOWER)
CLIVIA
COCKLEBUR
COFFEE (SENNA)
COFFEE BEAN
   (RATTLEBUSH,
   RATTLE BOX &
   COFFEEWEED
CORAL PLANT
CORIANDER
CORNCOCKLE
COYOTILLO
COWSLIP
CUTLEAF PHILODENDRON
DAFFODIL
DAPHNE
DATURA STRAMONIUM
  (ANGEL'S TRUMPET)
DEATH CAMUS
DELPHINIUM
DEVIL'S IVY
DIEFFENBACHIA
  (DUMB CANE)
EGGPLANT
ELDERBERRY
ELEPHANT EAR (TARO)
ENGLISH IVY
ERGOT
EUCALYPTUS (DRIED,
  DYED OR TREATED
  IN FLORAL
  ARRANGEMENTS)
EUONYMUS (SPINDLE
  TREE)
EUPHORBIA CACTUS
FALSE HELLEBORE
FLAME TREE
FELT PLANT
  (MATERNITY, AIR &
  PANDA PLANTS)
FIG (WEEPING)
FIRE THORN
FLAMINGO FLOWER
FOUR O'CLOCK
FOXGLOVE
GLOTTIDIUM
GOLDEN CHAIN
GRASS: (JOHNSON,
  SORGHUM, SUDAN &
  BROOM CORN)
GROUND CHERRY
HEATHS: (KALMIA,
  LEUCOTHO, PEIRES,
  RHODODENDRON, MTN.
  LAUREL, BLACK LAUREL,
  ANDROMEDA & AZALEA)
HELIOTROPE
HEMLOCK: (POISON &
  WATER)
HENBANE
HOLLY
HONEYSUCKLE
HORSE CHESTNUT
HORSE TAIL
HOYA
HYACINTH
HYDRANGEA
IRIS
IVY: (ENGLISH & OTHERS)
JACK-IN-THE-PULPIT
JASMINE (JESSAMINE)
JERUSALEM CHERRY
JIMSONWEED
JUNIPER
KALANCHOE
KY. COFFEE TREE
LANTANA (RED SAGE)
LARKSPUR
LILY OF THE VALLEY
LILY, ARUM
LOBELIA
LOCOWEED (MILK
  VETCH)
LOCUSTS, BLACK/
  HONEY
LORDS & LADIES
  (CUCKOOPINT)
LUPINE
MALANGA
MARIJUANA (HEMP)
MAYAPPLE
  (MANDRAKE)
MEXICAN BREADFRUIT
MEXICAN POPPY
MILKWEED, COTTON
  BUSH
MISTLETOE
MOCK ORANGE
MONKSHOOD
MOONSEED
MORNING GLORY
MTN. LAUREL
MUSHROOMS,
  AMANITA
MYRTLE
NARCISSUS
NECTARINE TREE
NETTLES
NIGHTSHADES:
  (DEADLY, BLACK,
  GARDEN, WOODY,
  BITTERSWEET,
  EGGPLANT,
  JERUSALEM CHERRY)
OAK
OLEANDER
OXALIS
PARSLEY
PEACE LILY
PEACH TREE
PERIWINKLE
PHILODENDRONS:
  (SPLIT LEAF, SWISS
  CHEESE, HEART-LEAF)
PIGWEED
PLUM TREE
POINCIANA
POINSETTIA
POISON IVY
POISON HEMLOCK
POISON OAK:
  (WESTERN & EASTERN)
POKEWEED
POTATO SHOOTS
POTHOS
PRIVET
PYRACANTHA
RAIN TREE
RANUNCULUS,
  BUTTERCUP
RAPE
RATTLEBOX,
  CROTALARIA
RED MAPLE
RED SAGE (LANTANA)
REDWOOD TREE
RHUBARB LEAVES
RHODODENDRONS
ROSARY PEA SEEDS
SAGO PALM
SAND BOX TREE
SCHEFFLERA
SKUNK CABBAGE
SORREL (DOCK)
SNOW DROP
SPURGES: (PENCIL
  TREE, SNOW-ON-MTN,
  CANDELABRA,
  CROWN OF THORNS)
STAR OF BETHLEHEM
SWEET PEA
SWISS CHEESE PLANT
  (MONSTERA)
TANSY RAGWORT
TOBACCO
TOMATO STEMS, LEAVES
UMBRELLA PLANT
VETCH: HAIRY/COMMON
VIRGINIA CREEPER
WATTLE
WEEPING FIG
WHITE CEDAR, CHINA
  BERRY
WISTERIA
YEWS
YELLOW JASMINE
HOUSEHOLD TOXINS

ALCOHOLIC DRINKS
AMMONIA
ANTIFREEZE
ANT SYRUP or PASTE
ARSENIC
ASBESTOS
AUTO PRODUCTS
BATHROOM CLEANERS
BLEACH
BORIC ACID
CAMPHOPHENIQUE
CARBON MONOXIDE
CARPET CLEANERS
CARPET FRESHENERS
CHARCOAL FLUIDS
CHLORDANE
CHLORINE
CIGARETTE SMOKE
CLINITEST TABLETS
COPPER/BRASS CLEANER
CORN & WART REMOVER
DEODORANTS
DETERGENTS
DIAZINON
DISINFECTANTS
DRAIN CLEANERS
EPOXY GLUE
FELT TIP MARKERS
FLEA PRODUCTS
FLOOR POLISH
FORMALDEHYDE
FURNITURE POLISH
GARDEN SPRAYS
GASOLINE
GUN CLEANERS
HAIR DYES & SPRAYS
HERBICIDES
INSECTICIDES
IODINE
KEROSENE
LIGHTER FLUID
LYE
MATCHES
MELALEUCA OIL
MODEL CEMENT
MOTHBALLS
MURIATIC ACID
MUSHROOMS
NAILPOLISH/REMOVER
NITROGEN DIOXIDE
OVEN CLEANER
OVERHEATED NON-STICK
COOKWARE
PAINT & THINNER
PERFUME
PERMANENTS(HAIR)
PESTICIDES
PHOTO SOLUTIONS
PINE OIL
RX DRUGS
RODENTICIDES
RUBBING ALCOHOL
SCENTED CANDLES
SHAVING LOTION
SHELLAC
SHOE POLISH
SNAIL BAIT
SPOT REMOVERS
SPRAY STARCH
STRYCHNINE
SULFURIC ACID
SUPER GLUE
SUNTAN LOTIONS/OILS
SURGICAL ACRYLICS
TEA TREE OIL
TURPENTINE
WAX
WEED KILLERS
WINDOW CLEANERS
WOOD PRESERVATIVES
READ MORE ABOUT PARROTLETS